OPTIONS FOR CUSTOM FRAMEBAGS
BOLT-ON to your top tube, down tube, or seat tube
A stiff plastic base of the framebag is bolted to your frames water bottle bolts. We can bolt your down tube, top tube, or seat tube all from your photofit image. The bolt holes are slotted to allow for a perfect fit and are gaurenteed to match up to your bolt patterns. Bolts and washers are included in your order.
Downtube bolt on is added on the framebag product page, while the seat tube and top tube bolt on is added in the framebag extras category.
PRO: Eliminates velcro straps that interfere with water bottle bolts on the underside of your downtube. Also creates a clean look and solid anchor.
CON: Takes more time to take the framebag on and off the bike.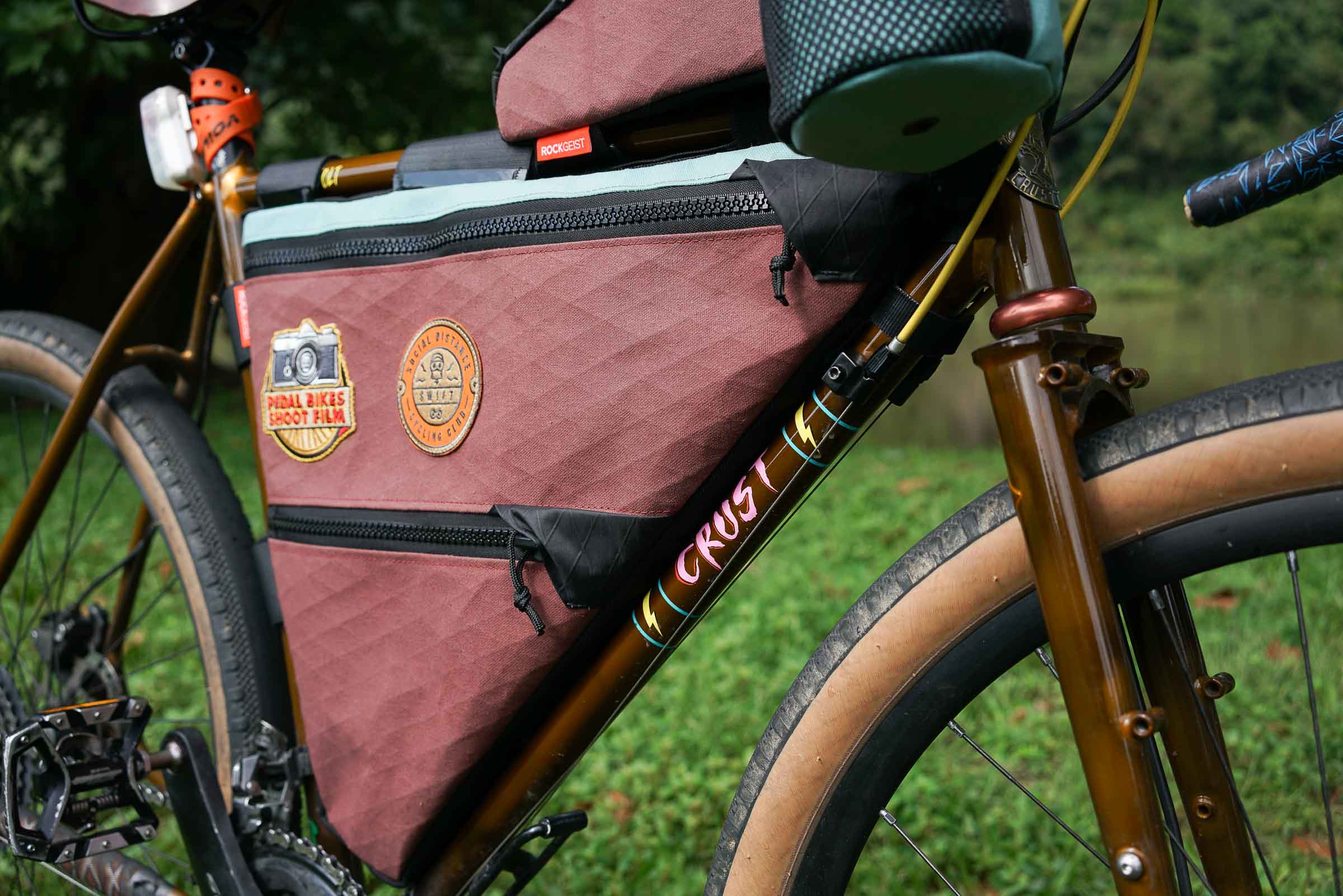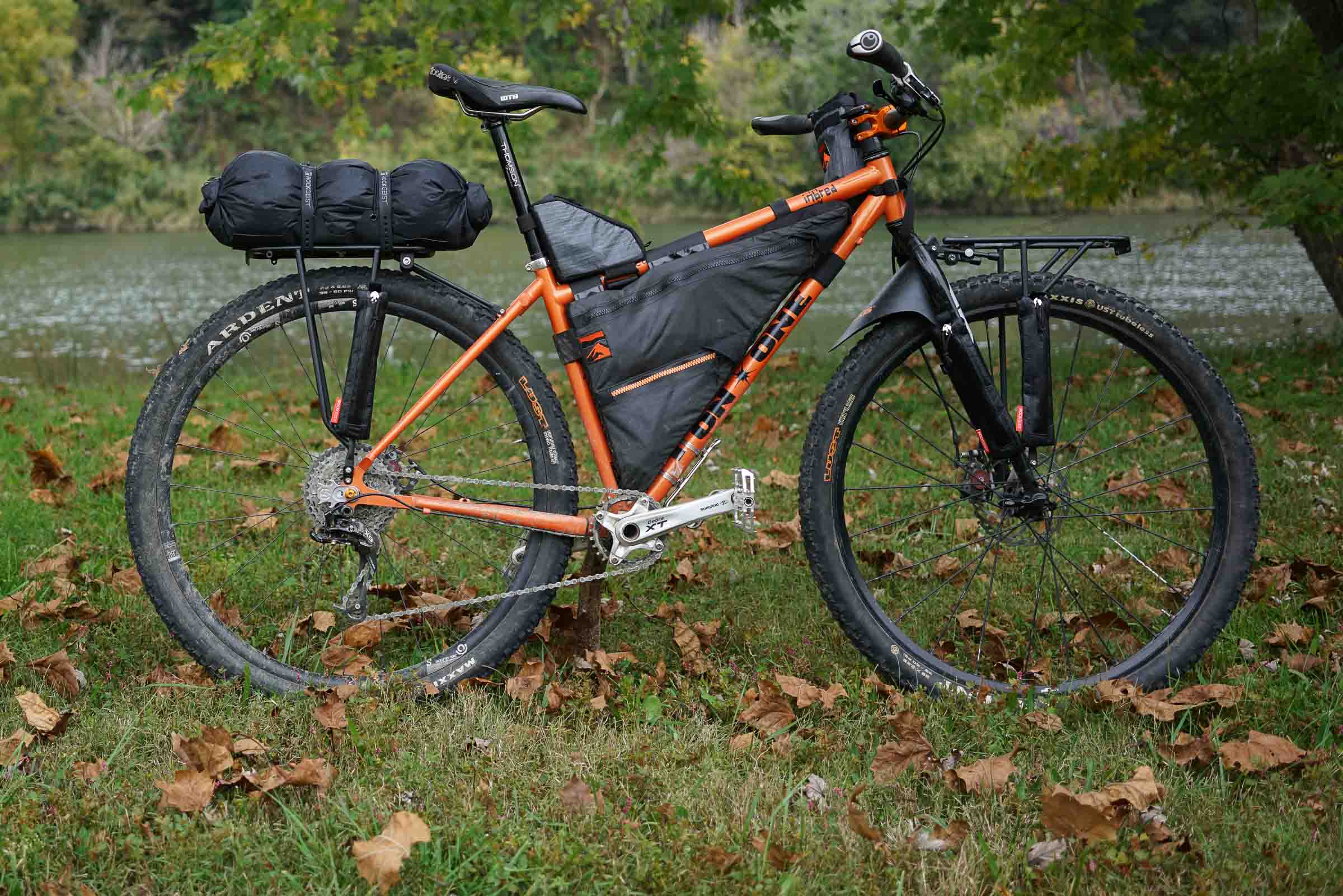 MAP POCKET
The map pocket is positioned on the non-drive side and is a full length pocket with no depth. Perfect for small, flat objects such as maps.
Internal sleeves exist inside the map pocket for framebags with enough space. A channel also exists to connect the map pocket to the drive side to allow electronic cords to pass through.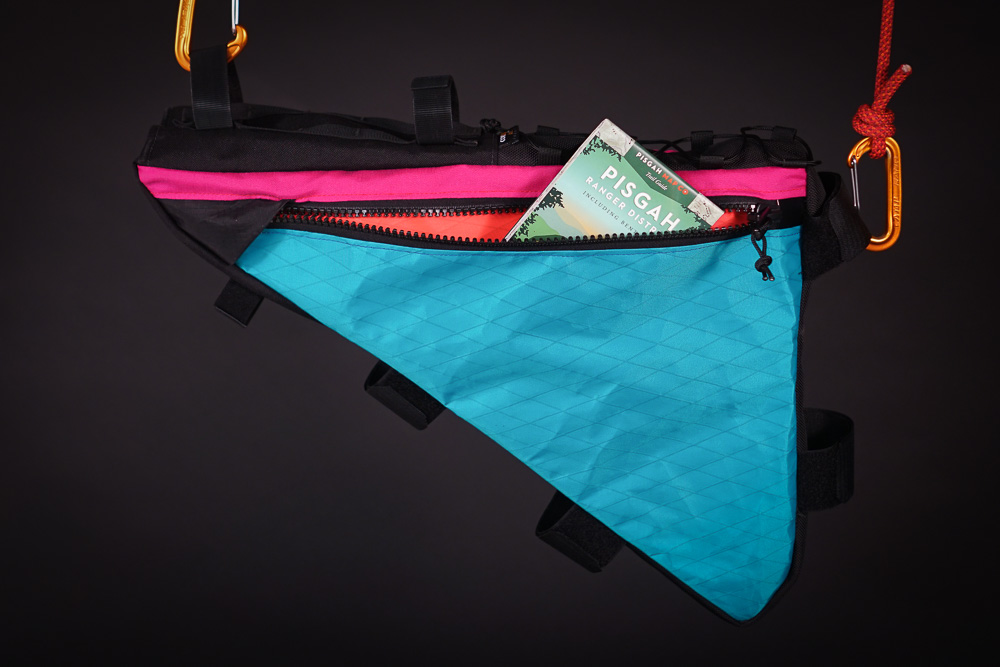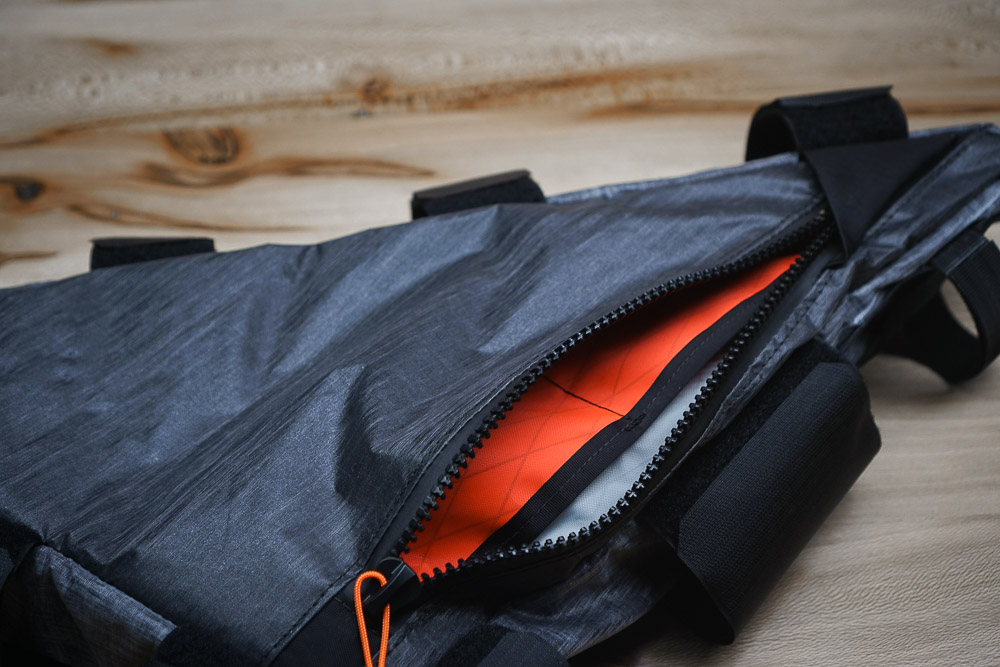 HANG LOOP SLEEVE
Hang loops consist of a "sleeve" with a daisy chain under your top tube. A pump can live behind the sleeve leaving One-wrap velcro straps to wrap other objects such as tent poles. The Velcro straps are removable to free up space when not in use. This arrangement helps prevent clutter from building up at the bottom of your bag. 
*For bags that bolt on to your top tube this sleeve may not fit depending on how close your bolts are. In this case we sew permanent hang loops into the seams.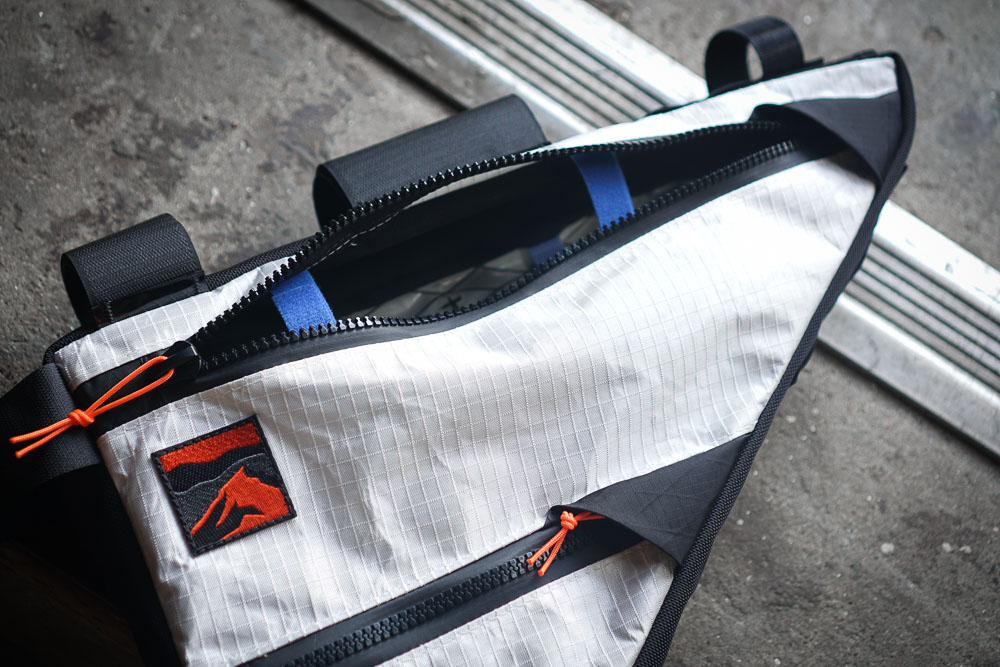 HYDRATION PORT - Standard
A hydration port is standard on all custom framebags and can be found right under the "Made in USA" label. The port is the full width of the bag which is large enough for multiple hoses to exit.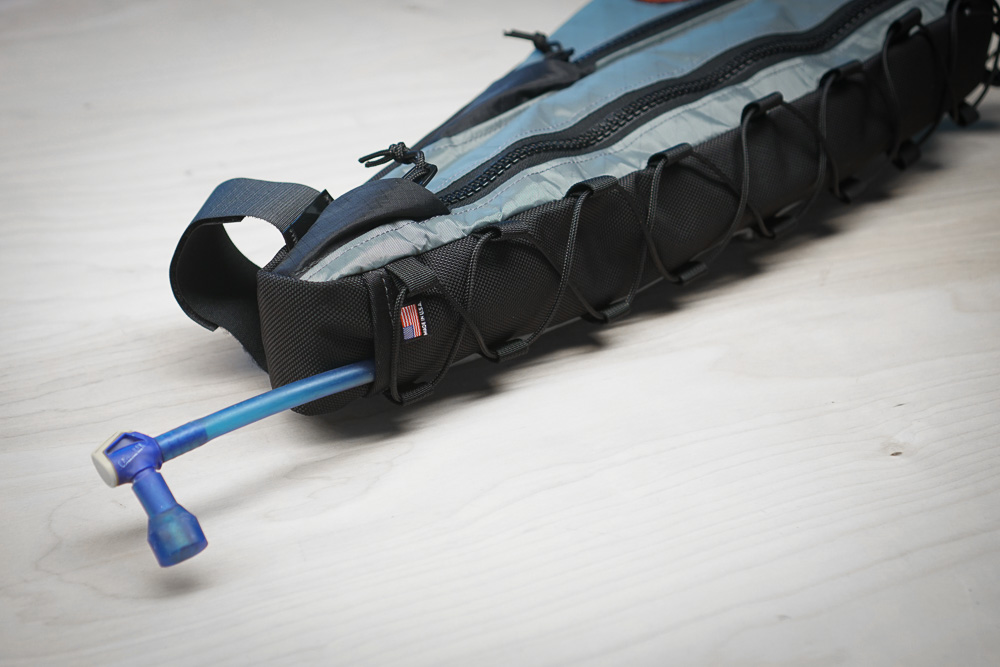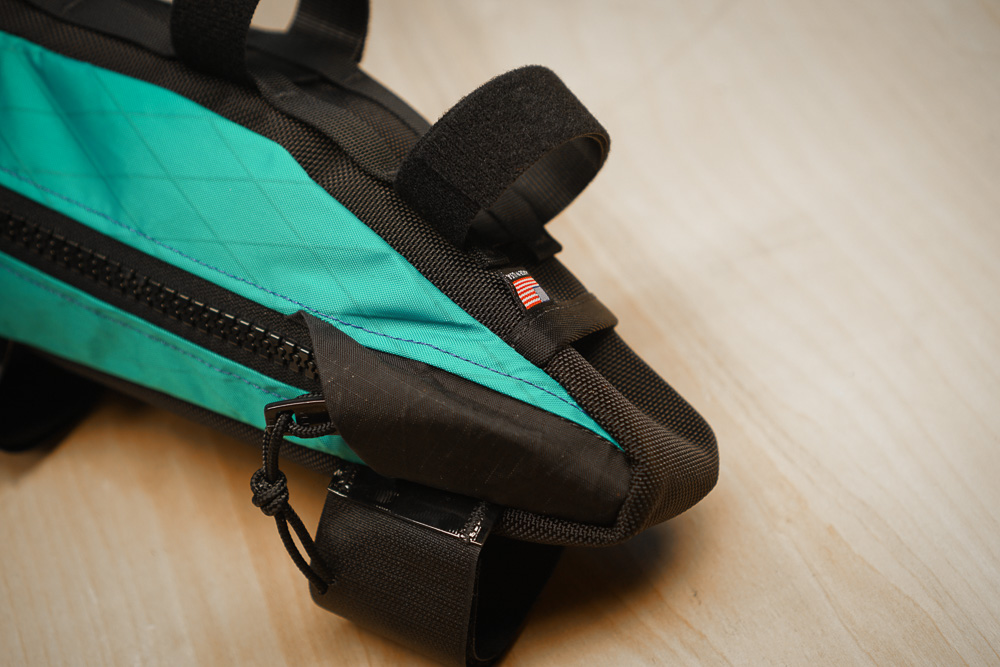 HORIZONTAL ZIPPERED DIVIDER
The horizontal divider has a zipper entry positioned on the drive-side. There is a removable velcro divider that creates a horizontal partition when in place. When opened up, you have full access to the entire bag from the top zipper entry.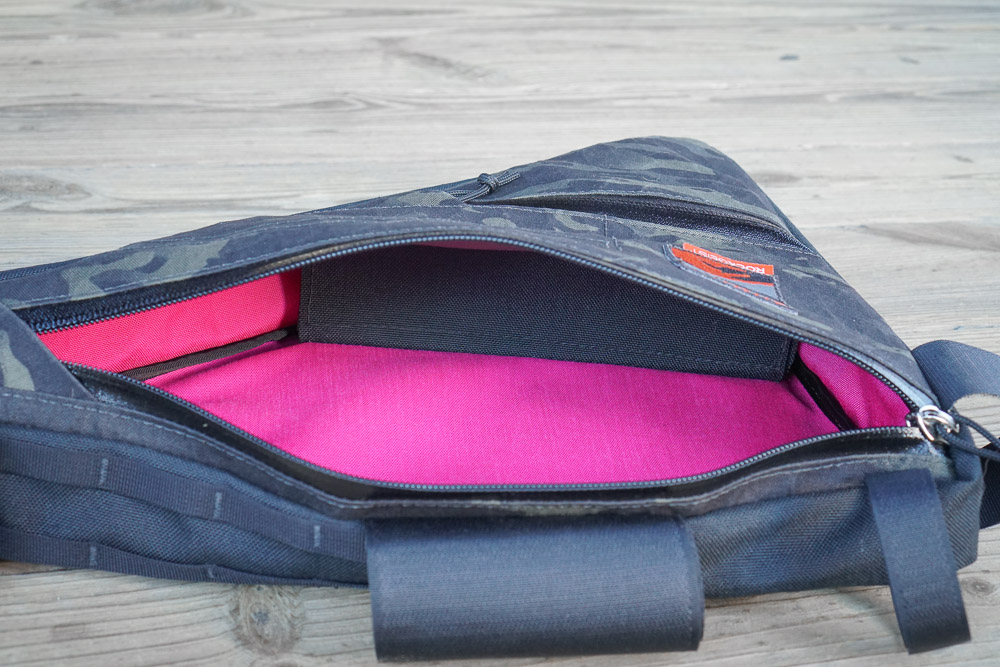 VERTICAL DIVIDER - Standard
A removable vertical divider is standard when there is risk for knee-rub. This is usually on large roll-top and triangular framebags that choose not to have a zippered horizontal divider. This vertical divider prevents the bag from "ballooning" out in the middle, while still allowing tent poles to be stored along the length of the downtube inside the framebag.
LACE-UP
Lace-up connection to your top-tube. Standard cord color is black.
PRO: Creates a solid, distributed frame connection. Less abrasive to your frame's paint than velcro.
CON: More time consuming to install/remove framebag compared to velcro.
FLARED FRONT NOSE
Make the most of your packing space with a flared front end. The flared nose is built 4.75″ wide at its peak with a variable 1″ velcro connection on top, a hydration port at the point, and a 2″ one-wrap velcro connection connecting to your downtube.
For Roll-top framebags the opening of your roll will be smaller then normal to accommodate the flared out spine.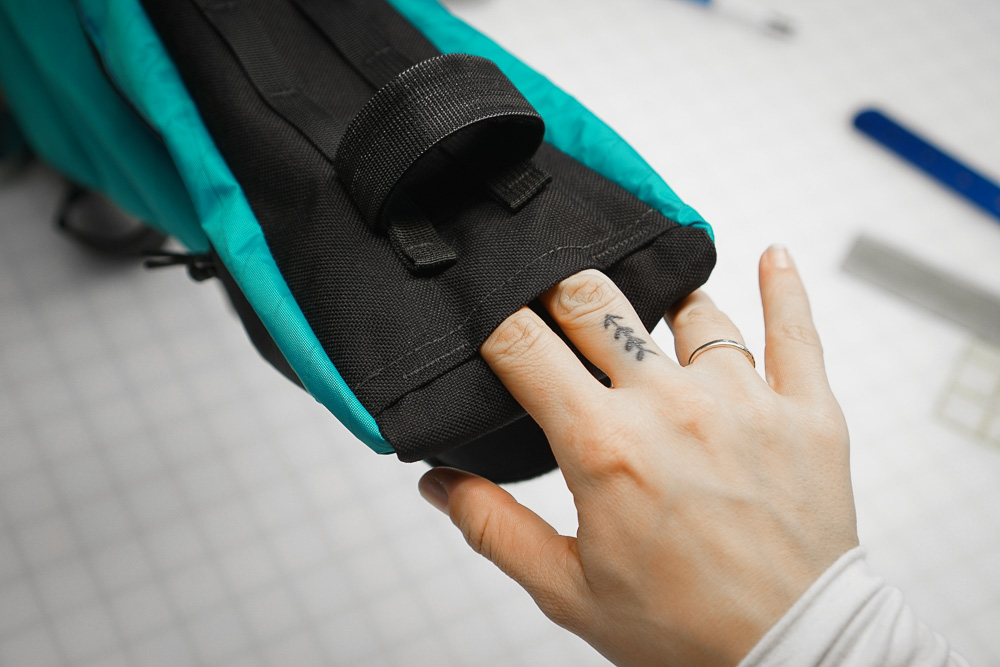 DRAINPORT - standard
Because life happens. Mother nature happens. Small enough to keep tiny items inside your framebag but large enough to let water/beer out quickly.
LOGO STYLE
There are three logo options available to complement the aesthetic of your framebag: a small sew-in orange tag, orange mountain patch, or grey-scale heat press. If none of these logos suit your style, you can select the "No External Logo" option from the dropdown.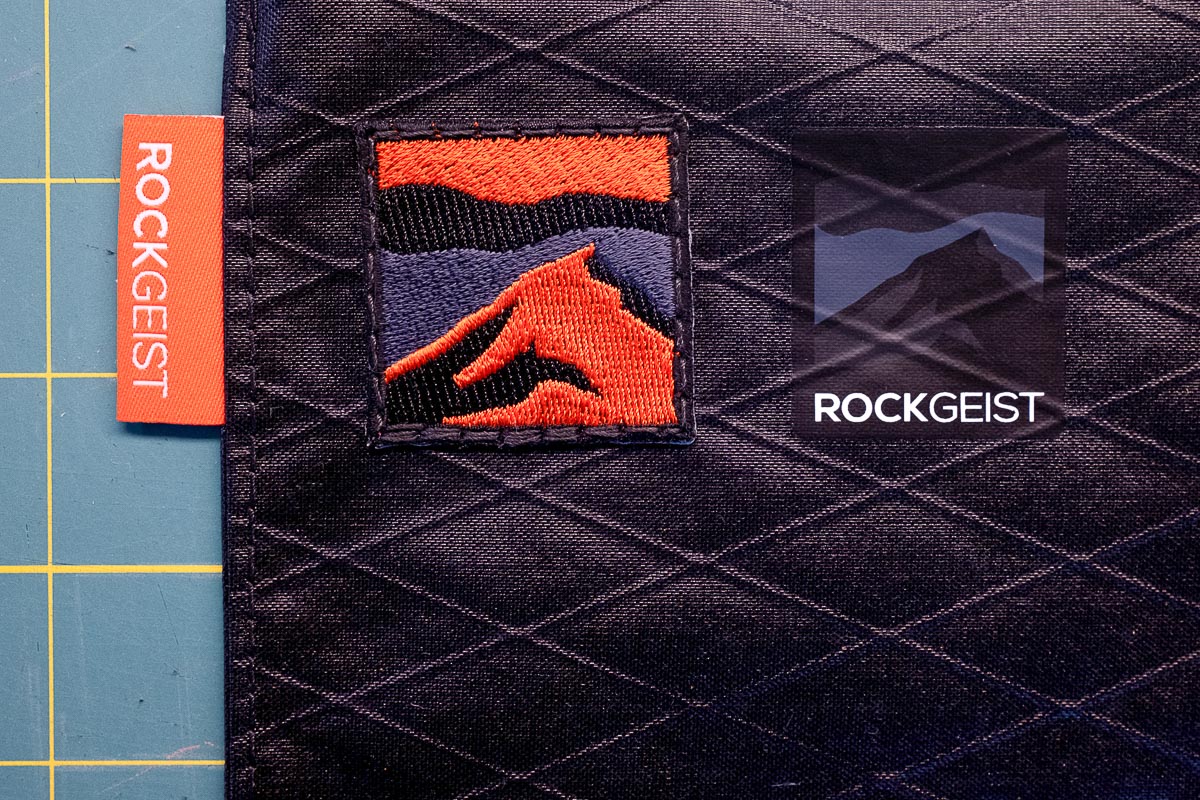 CUSTOM COLORS and PATCHES
Custom framebags have the option to include multiple colors. Please select your "COLORS" here. This link can be found in the framebag's product description as well. 
Please feel free to mail us any patches you would like on your framebag. We need them before we start the build so please mail them to the address below with your order number and email us to let us know where you would like the patch sew on. 
Rockgeist Bikepack USA. 2000 Riverside Dr. Unit 33 Asheville, North Carolina 28804 USA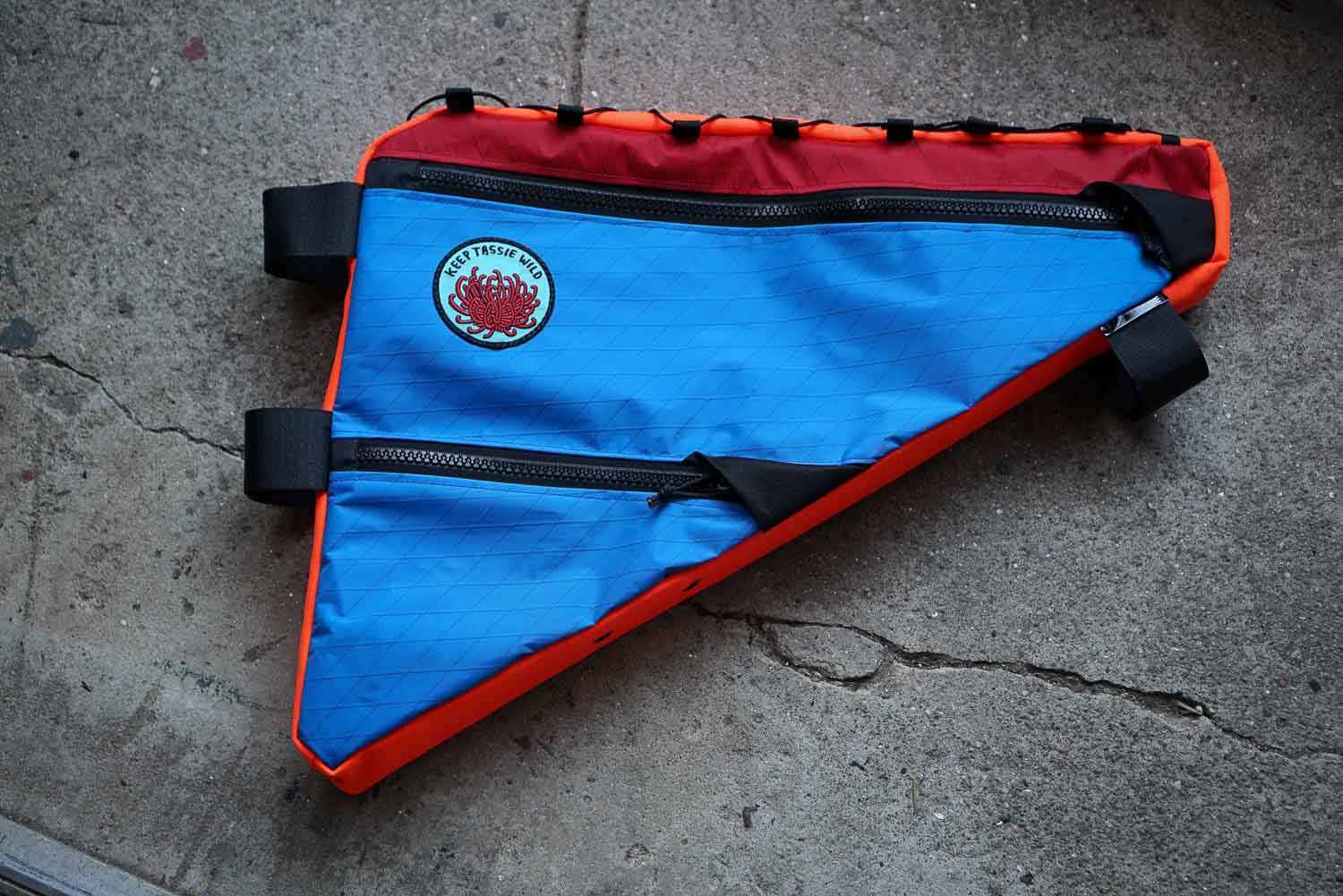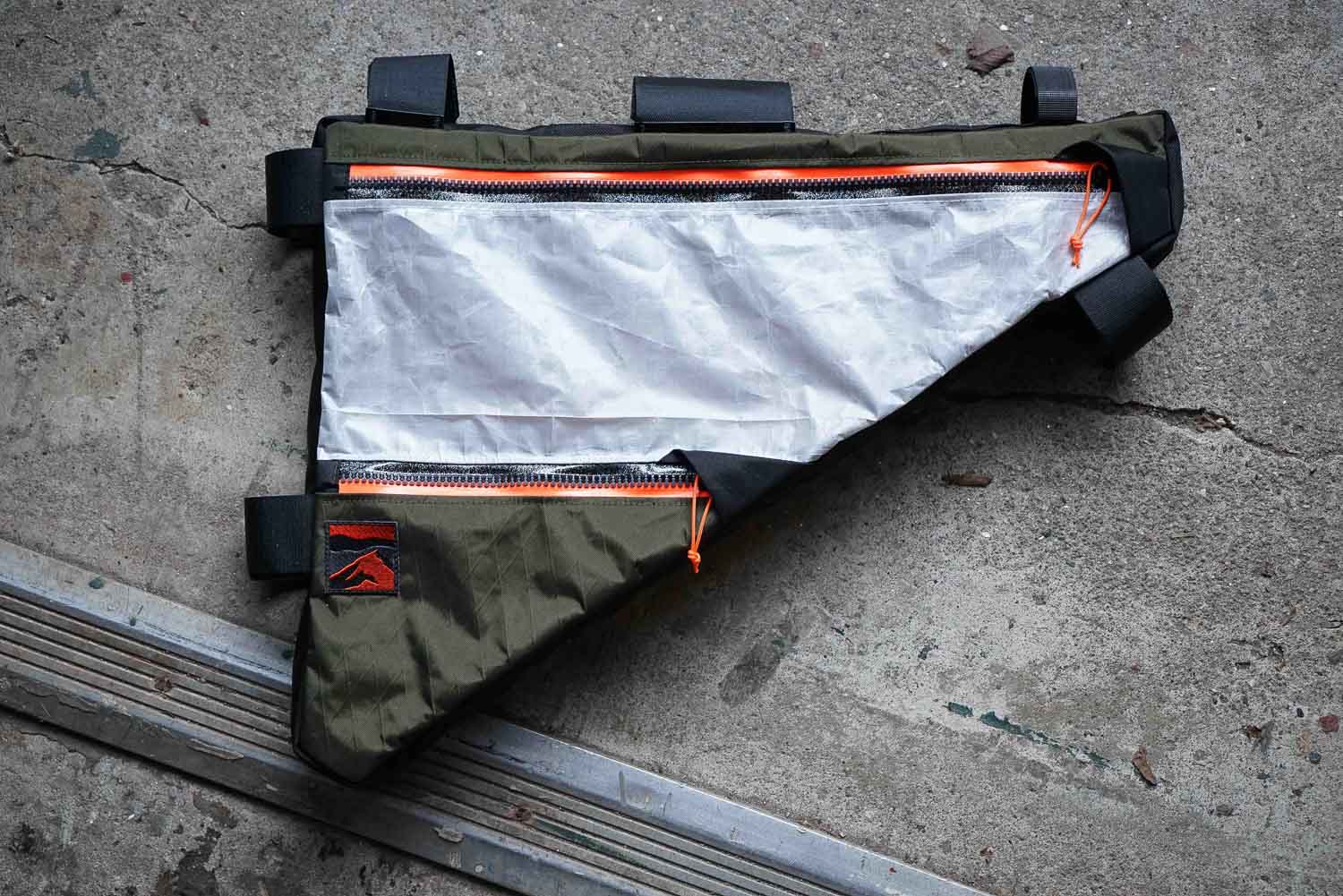 Goodbye camelbak – Hello Mudlust. This framebag is tough, functional, and looks badass. Rockgeist was great in guiding me through the custom options and the whole process was fast and friendly.
Choice of fabric and color is an absolutely amazing attribute to this brand. No other top bag maker offers this.
These custom bikepacking bags goes deeper than picking a color and taking a photo. Everything is meticulously designed and sewn to provide the best user experience.
Rockgeist has big ride experience and vey knowledgable about the world of bikepacking. They spent a lot of time with me regarding many helpful tips for my rig and the bags are ridiculously nice.