FABRICS YOU CAN DEPEND ON
Premium fabrics; Dyneema® to Organic Cotton
Rockgeist specializes in the largest selection of premium fabrics from Dyneema®, Cordura®, X-Pac®, and ECOPAK™.
These fabrics are carefully selected for their unrivaled durability and performance for their weight. Combined with meticulous design and exceptional workmanship, these materials are essential elements in delivering best-in-class gear. 
*Color swatches are approximate representations only. Not all swatches are in stock.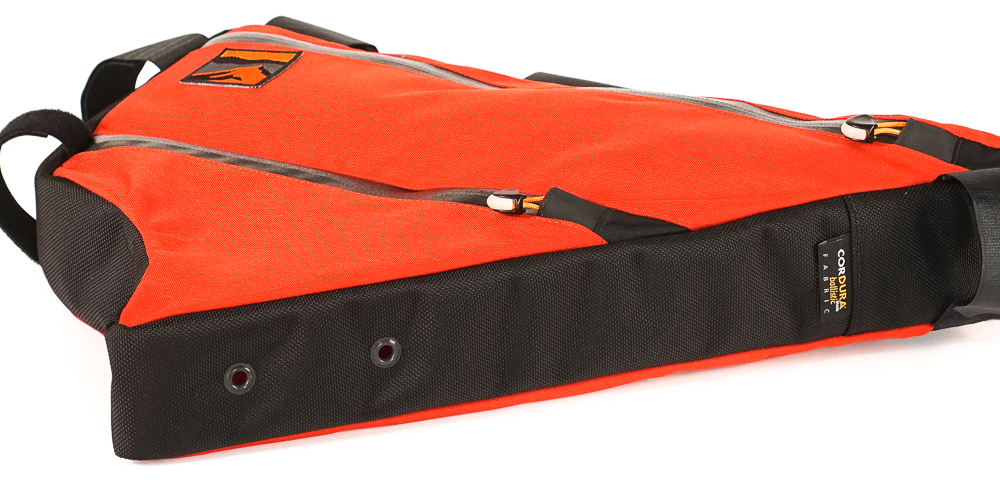 X-PAC® FABRICS
X-Pac® builds durable, lightweight fabrics in eco-friendly facilities in the USA and Germany. Xpac® is powered by 100% renewable energy and offset all carbon emissions in partnership with Climate Partner and Plastic Free Oceans. 
Rockgeist is no longer purchasing X-pac fabrics with a fluorocarbon (FC) coating and some colors will be out of stock until we can get them in a FC-free finish. This is part of our commitment to transition to only using FC-free fabrics. Visit our Smartrepel® article to learn why this coating is an important shift in the industry.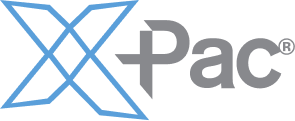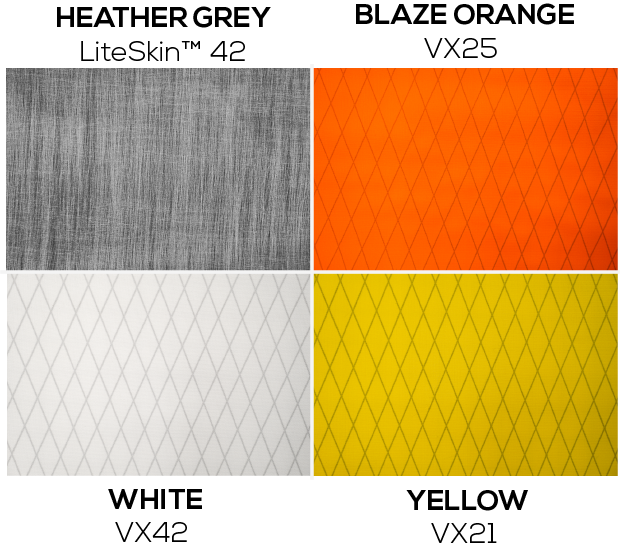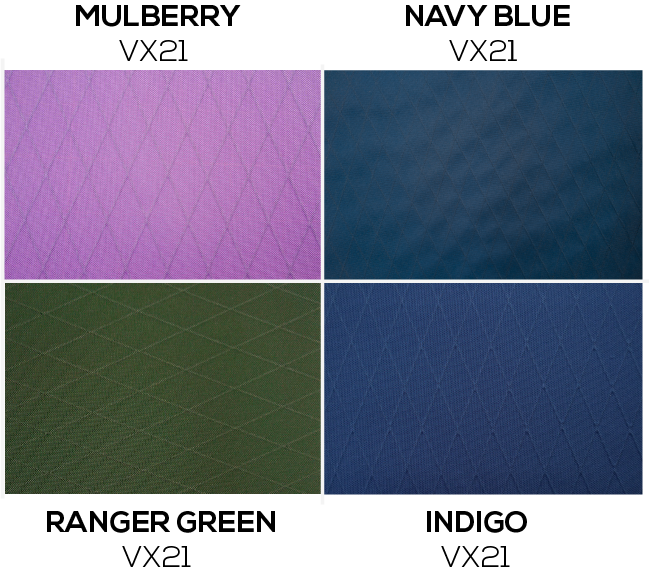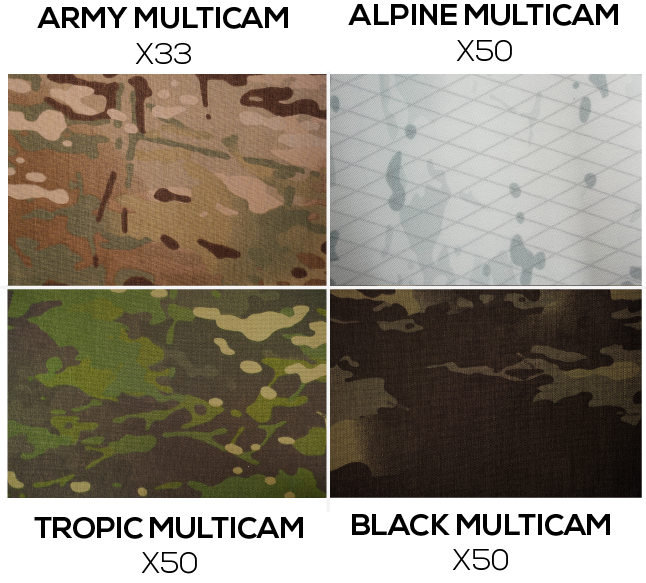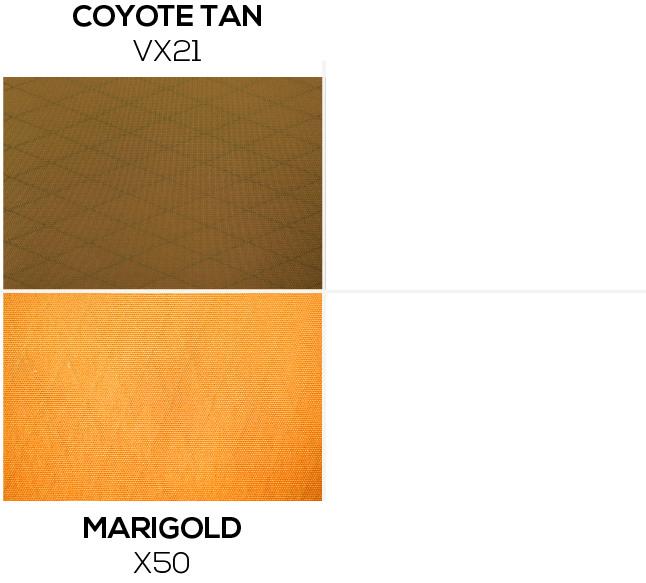 Local Supply Chain
The full XPac RX supply chain; from bottles to bags; occurs in the Carolinas and Connecticut. Combined with being recycled and Fluorocarbon-free this gives the smallest carbon footprint out of any of our fabrics.
X-PAC® COTTON DUCK
X10, X11 Cotton Duck consists of a natural cotton outer face with a black X-Ply® inner sandwiched by a waterproof polyester film backing. X11 styles are made with organic cotton and both styles are Fluorocarbon-free. 
The waterproof backing means there is no need to wax the outer cotton. It has a stiffer body than any of the traditional X-Pac offerings and weighs slightly more.
How X-Pac is made & which version meets your needs
X-Pac™ laminate is the workhorse fabric technology for bikepacking gear. The laminate make up allows multiple layers, each with different beneficial properties, to be combined into one fabric.
For example, VX21 is constructed of three main layers; a 210 denier nylon face that give abrasion resistance and stitch retention, a black polyester X-Ply™ grid on a PET film that gives low stretch and waterproofing, and a 50 denier taffeta backing that gives wear resistance and protection to the waterproof layer. Collectively these layers create a technical fabric with exceptional abrasion resistance, low stretch, and durable waterproofness. VX07, X33, VX42 and X50 are similarly constructed with their respective nylon weight (70d, 330d, 420d, and 500d).
Choose VX series if...
you want a technical lightweight fabric with exceptional abrasion resistance, low stretch, and durable waterproofness. VX21 series comes in the most color options. Higher weight fabrics such as VX42, X50 have a thicker nylon layer which gives increased durability and abrasion resistance.
¤ Waterproof
¤ Lightweight, durable
¤ Extensive color options
¤ VX42, X50 heavier weight options for an increase in abrasion resistance
Choose LiteSkin (LS) if...
you prioritize lightweight gear. LiteSkin (LS21 & LS42) has strong abrasion resistance at lower weights compared to its VX21 and VX42 equivalent fabric.
¤ Waterproof
¤ Lighter weight compared to VX series
¤ Unique heterogenous aesthetic
Choose Cotton Duck if...
you're looking for the most natural look and feel to your bikepacking gear while still benefiting from the technical performance of Xpac. Cotton Duck pairs particularly well with bikes built from classic lines and steel tubing.
¤ Waterproof
¤ Organic cotton available
¤ Natural, earthtone colors
Choose RX series if...
you're looking for recycled fabric with the lowest carbon footprint possible. Entirly made on the East Coast with 100% post-consumer recycled polyester. 
¤ Waterproof
¤ Local supply chain
¤ Made from recycled plastic
ECOPAK™ FABRIC
Waterproof, durable, laminated fabric with 100% recycled polyester. Every yard of ECOPAK™ uses about 20 plastic bottles and saves one pound of carbon emissions compared to standard fabric. All our ECOPAK fabric uses a fluorocarbon free coating.

Choose ECOPAK if...
Choose ECOPAK if using recycled fabrics with a non-toxic FC-free coating is important to you. ECOPAK also contains the largest color selection of fluorocarbon free, recycled fabrics.
Which ECOPAK weight is best?
It depends. We offer ECOPAK in three fabric weights which are given by the number in the color name;  20, 40, and 45RS. These numbers refer to the weight of the outer most layer of fabric with "RS" being short for a "Rip Stop" weave (this is the same nomenclature for X-Pac fabrics).
Heavier weight fabric generally means increased durability at the expense of weight. The exception is Ultra-PE fabrics in our Fiber Flight Series.
20 is short for 200d fabric, and 40 means a heavier 400d fabric. While heavier, EcoPX-40 has 6x more abrasion resistance then EcoPX-20.
ECOPAK vs. X-Pac
Both use a laminate construction for a durable, lightweight fabric. X-PAC's direct compition with ECOPAK is their recycled RX-Line. Both ECOPAK and X-PAC's RX fabrics have the benefit of using a 100% recycled polyester face and fabrics are fluorocarbon-free. Beside specific colors, a large differenciator is that X-PAC's recycled RX-Line is processed, spun, and laminated in the USA while ECOPAK fabric is processed in China.
ULTRA-PE FABRICS
ULTRA-PE fabrics encompass fabrics built with with the strongest, lightest fibers in the textile industry. These Ultra-PE fabrics make up our Fiber Flight Series; gear built to maximize durability while minimizing weight.
The fibers that make up Ultra-PE fabrics are chemically know as Ultra High Molecular Weight Polyethylene (UHMWPE) and are branded by names such as Dyneema®, Dyneema Composite Fabric (formerly Cuben Fiber), Spectra®, VX40 (made by Dimension Polyant®), and ULTRA (made by Challenge Sailcloth™).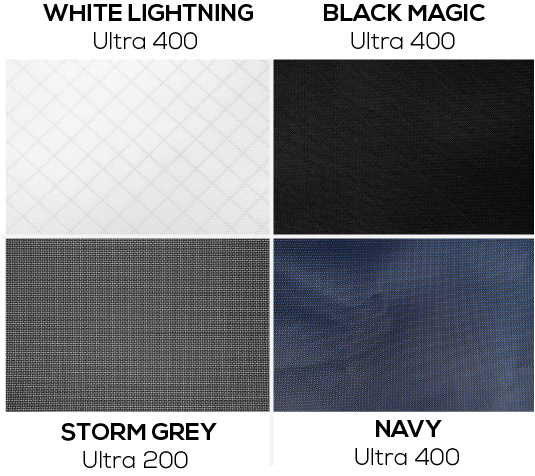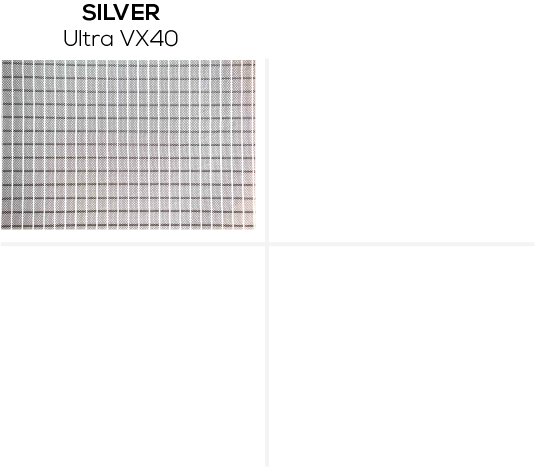 CORDURA FABRICS
Cordura® fabric is constructed of a specialty nylon weave with a waterproof coating and has exceptional resistance to abrasion and punctures. 500 denier Cordura® is typically used for the face of gear, while 1000 denier and ballistic 1050 denier is used for abrasion prone areas (e.g., the spine of bags). Ballistic 1050d is standard on the spine of all Rockgeist framebags.

Cordura Close Up
These images are scanning electron microscopy (SEM) images showing the waterproof coating and the weave of the individual nylon fibers. The coating seen on the bottom of the image illustrates the difference between Cordura's waterproofing approach versus the laminate layers of Xpac.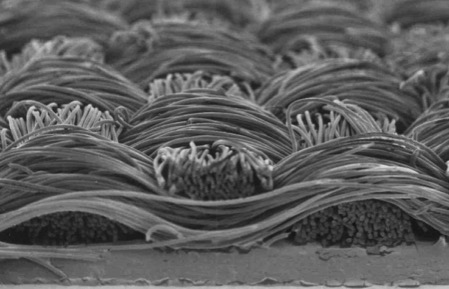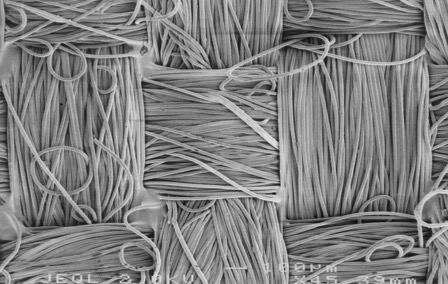 X-Pac versus CORDURA
There are small differences between X-Pac and Cordura but together they make rugged, high performance framebags.
X-Pac Benefits
A lighter base weight then its Cordura counter-part.
Will absorb less water then Cordura. This makes

X-Pac

an ideal choice for ultralight applications.

X-Pac

waterproofing is more durable due to a dedicated waterproof layer versus the waterproof coating of Cordura that can wear off.

X-Pac

has a stiffer body and holds its shape better then Cordura
These benefits are why Rockgeist uses X-Pac (and similar ECOPAK fabrics) for the panels of our framebags and body material of our sewn universal gear.
Cordura Benefits
Generally, Cordura has better abrasion resistance then equivalent 

X-Pac

. One exception is the X50 series 

X-Pac

, which actually use USA-made Cordura 500d on its outer face giving the best of both brands in one fabric.
Cordura is a more pliable fabric than

X-Pac

. This is why Rockgeist uses 1000d Cordura for internal framebag dividers and for the spine of Medic and Cache Top Tube bags.
Cordura's softer hand is less abrasive to the paint of your frame and takes sharp curves exceptionally well with no creasing.
The Ballistic Cordura 1050d is a fabric in its own class. It provides a unique advantage of exceptional abrasion resistance, less wear to your frame's paint, and a pliable body that takes sharp curves well with no creasing. These attributes are why all Rockgeist framebags use this fabric for their spine.
BIKEPACKING FABRIC WEIGHTS
Compare relative Dyneema, Cordura, Ecopak, and XPac fabric weights using the chart below.
Our Commitment to Fluorocarbon-Free Fabrics
In 1998 a lawsuit started that would eventually lead to the 2016 ban of long chain perfluorochemicals (PFCs) used in US manufacturing. 
What are Fluorocarbons and why are they harmful?
Fluorocarbons (FCs or PFAS) shed water and stains exceptionally well and are most commonly used for the durable water repellent (DWR) coating on fabric. The long chain variation of FCs that have at least eight carbon chains (known as C8) are banned as these chemicals have been determined to be carcinogens and toxic to our environment.
Today, a shorter chain fluorocarbon termed C6 is a prevalent DWR coating found on most outdoor gear. However, in the face of heath and environmental concerns legistlation is mounting to ban C6 DWRs as well. The final solution for outdoor gear seems to be nothing short of FC-free DWRs, also known as C0 DWRs. Rockgeist is committed to sourcing and using as many FC-free fabrics as possible while discountinuing the use of traditional C6 DWR fabrics.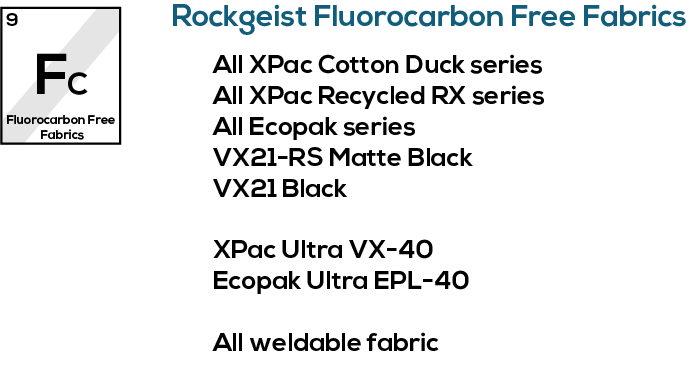 How will your fabrics fade in the sun?
To help answer this question a few of the more popular X-Pac fabric colors were rounded up and exposed to the Sun's UV energy for 2 summer months. The intent was to rank the fabric colors by how much they fade, not necessarily to show what your fabric will look like after a few seasons. Keep in mind if you ride at high elevation in Colorado your colors will fade much faster then if you ride in the dense rainforest in North Carolina.
Methods: A fabric swatch of each color was sewn together and placed on the workshop roof. Sun exposure lasted from noon to about 7 pm for 2 summer months. After the UV challenge, before and after photos were compared by taking the average RBG values of each swatch to obtain a single RBG color. The luminosity of this single RGB color was then used to calculate a percent fade.