Fabrics you can depend on
Xpac™, Dyneema®, Cordura®
All Rockgeist gear is constructed with premium fabrics. Dyneema, Cordura, and X-Pac fabric give unrivaled durability and performance for their weight. Combined with meticulous design and exceptional workmanship, these materials are an essential element in delivering best-in-class gear. Visit our framebag Gallery to view example builds in various fabrics.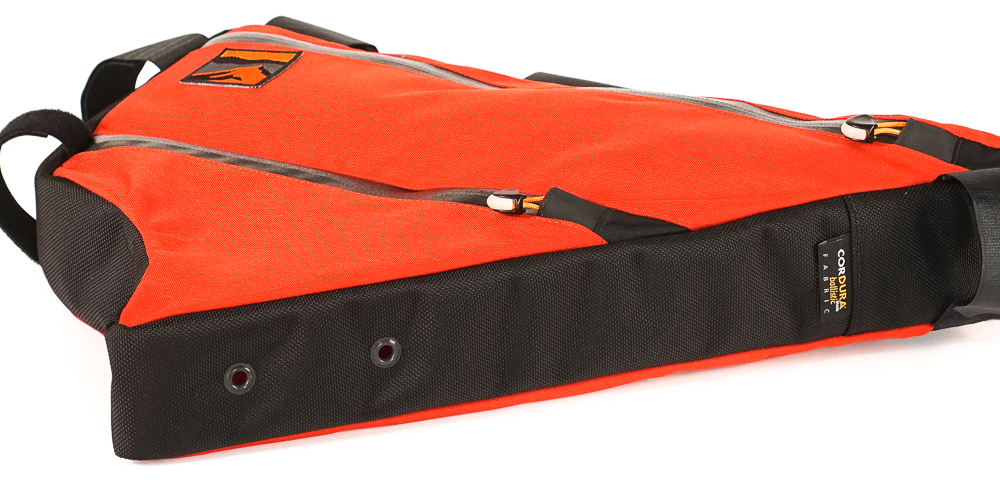 DYNEEMA® FABRIC
Part of the Fiber Flight series.
Visit our Smartrepel® article to learn more about this fabric and why it's an important shift in the industry. All our X-Pac fabrics are waterproof.
COTTON DUCK XPAC™
PFC-Free (no fluorocarbons)
Our waterproof X10 Cotton Duck X-Pac™ consists of a natural cotton outer face with a black polyester X-Ply® inner sandwiched by a 0.5 mil polyester film backing. This film backing creates a waterproof layer and eliminates the need to wax the outer cotton. Just like our VX21 Smartrepel® it is a PFC-free fabric (fluorocarbon-free DWR). It has a stiffer body than any of the traditional X-Pac offerings (VX21, X33, X50, etc) and weighs in at 10.5 oz/yd², slightly heavier than the 6.0 oz/yd² VX21. The Cotton Duck is a great option if you are looking for a more natural look and feel to your bikepacking gear. We think it pairs particularly well with bikes built from classic lines and steel tubing.
CORDURA® FABRIC
Used for Universal Gear only. 
*Color swatches are attempted to be as accurate as possible, however, they are approximate representations only. True color does not always translate correctly due to monitor type, photography artifacts, and slight variations in fabric batches. This is especially relevant for LiteSkin fabrics.
BIKEPACKING FABRIC WEIGHTS
Compare relative dyneema, cordura and X-pac fabric weights using the chart below. The base weight of the fabric is given in ounces per square yard.
How will your fabrics fade in the sun?
To help answer this question a few of the more popular X-Pac fabric colors were rounded up and exposed to the Sun's UV energy for 2 summer months. The intent was to rank the fabric colors by how much they fade, not necessarily to show what your fabric will look like after a few seasons. Keep in mind if you ride at high elevation in Colorado your colors will fade much faster then if you ride in the dense rainforest in North Carolina.
Methods: A fabric swatch of each color was sewn together and placed on the workshop roof. Sun exposure lasted from noon to about 7 pm for 2 summer months. After the UV challenge, before and after photos were compared by taking the average RBG values of each swatch to obtain a single RBG color. The luminosity of this single RGB color was then used to calculate a percent fade.


Which fabric is right for me? XPAC vs. CORDURA
VX21 and 500d Cordura are often viewed as "equal" when it comes to function but there are a few small differences:
X-Pac has a slightly lighter base weight then its Cordura counter-part.
X-Pac will absorb less water then Cordura. This makes VX21 an ideal choice for riders who make lightweight travel a priority.
X-Pac waterproofing is slightly more durable since X-Pac has a dedicated waterproof layer versus the waterproof coating of Cordura.
500d Cordura has slightly better abrasion resistance then VX21 and is great for gear that might see a lot of rubbing.
Aesthetics: X-Pac has a more technical/performance look while Cordura has a classic "feng shui" that may align well with you and your bike.
X-PAC™ FABRIC
X-Pac™ VX21 is the workhorse fabric for bikepacking gear and is constructed of three layers; a 210 denier nylon face (hence the 21 in VX21), a black polyester X-Ply™ grid on a PET film, and a 50 denier taffeta backing. The outer 210 denier face is then treated with a durable water repellant finish. Collectively these layers create a very technical fabric with exceptional abrasion resistance, low stretch, and durable waterproofness. VX07, X33, VX42 and X50 are similarly constructed with their respective denier face (70, 330, 420, 500).  
CORDURA® FABRIC
Cordura® fabric is constructed of a specialty nylon weave with a waterproof coating and has exceptional resistance to abrasion and punctures. 500 denier Cordura® is typically used for the face of gear, while 1000 denier and ballistic 1050 denier is used for abrasion prone areas (e.g., the spine of bags). Ballistic 1050d is standard on the spine of all Rockgeist framebags. Please see the weight graph for comparison between all Rockgeist fabrics.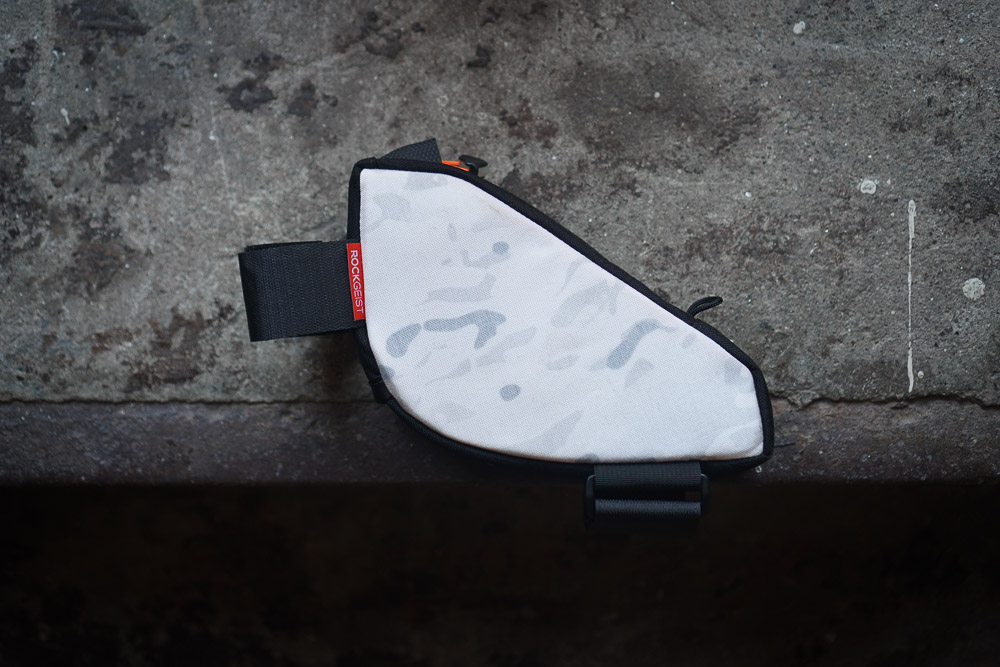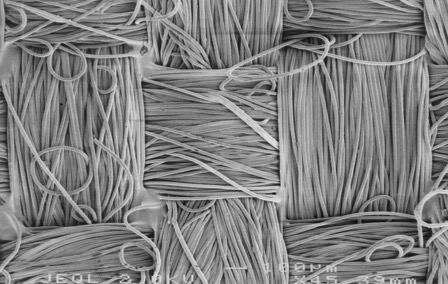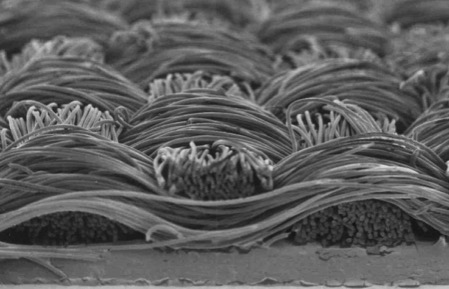 ZIPPER SMOOTHNESS & DURABILITY
Zipper durability is the most important element of your framebag. We understand first-hand the challenges of a busted zipper while on a long journey and this experience drives our commitment to build your framebags with the best zippers on the market. We have rigorously tested almost a dozen different zipper types which includes not just different zipper manufactures, but also different styles of zipper sliders, teeth, and tape. Those tests resulted in the zippers we use today which include YKK molded zippers for our Mudlust series and custom zippers from Europe for our Fiber Flight series.
MUDLUST & FIBER FLIGHT ZIPPERS
Our Mudlust series set the standard for zipper durability while our Fiber Flight zippers match that durability while having the lowest force to open/close (i.e., smoothness, see graph below) and offer the highest level of water-resistance for a non-dry bag style zipper. These Fiber Flight zippers are custom made for Rockgeist which include specific branded colors. If you would like to upgrade your Mudlust framebag to included these Fiber Flight zippers please select your color here.