1/2 framebag, 1/2 amazing. Made with molded teeth, #10 YKK zippers. Please see the Fabric Page for material descriptions and the Features Page for complete details of all framebag features.
The Mudlust half framebag is a partial frame bag designed around the water bottles that live in your inner triangle space and does not connect to the full length of your down tube. Pair with the King Cage - Drop Cage to increase the volume/space of your half framebag (gain ~ 1 liter of storage). For framebags built from multiple COLORS please select them here. 
PLEASE READ: We ask you to select the general framebag shape in the drop down menu to give us direction on how to shape your bag. All bags will be unique based in how your bottles are positioned in your photofit image. If your photofit image is sent in with no bottles we will use standard 22 oz bottles to shape your bag around. We will not re-make your half framebag for any reason if you fail to give us shape input at the time of ordering. 
Base features:
Variable top tube velcro attachment to accommodate your choice of stem bag (e.g., the Rockgeist Cache top tube bag)
Drive-side main zippered compartment giving access to entire bag
Hydration/electronics port from both the map pocket side and the main compartment on the drive side.
Drain port
Molded zippers
**For half framebags that select Orange Mountain Patch where the patch does not fit in the lower left corner we will use a sew in label instead.**
Additional information
Weight
0.7 lbs
Dimensions

Panel size is custom to your frame, spine width is ~ 2.35" for narrow steel tubing, and ~ 2.6" for larger tubing (aluminum and carbon frames). We do change spine width based on your frame and these numbers are just estimates.

If you would like a specific spine width please let us know in the comment field at checkout. Multiple spine widths are subject to an up-charge, please email bikepack@rockgeist with inquires.

Volume

Volume is dependent on the panel area and spine width of your framebag. Adding a flared nose adds about 0.75L of volume up at the nose of the bag.

Weight

Weight is dependent on the number of features added to your build and the fabric selected. Generally, the higher the number at the end of the fabric name the heavier the fabric (e.g., X50 is heavier then VX21) . More fabric details can be found on our fabric page.
Mounting Instructions
If your framebag contains velcro, please trim off any excess length. (We leave velcro long to ensure flexibility in wrapping multiple tube diameters). Any webbing can be trimmed if needed but please take a lighter to the cut end to prevent fraying.
For bolt on framebags please see the installation graphic below. The washers are mounted on the INSIDE of your framebag.
Please be aware that your framebag may wear the finish on your frame over time, especially at velcro locations. We recommend protecting your frame with helicopter tape to prevent this wear.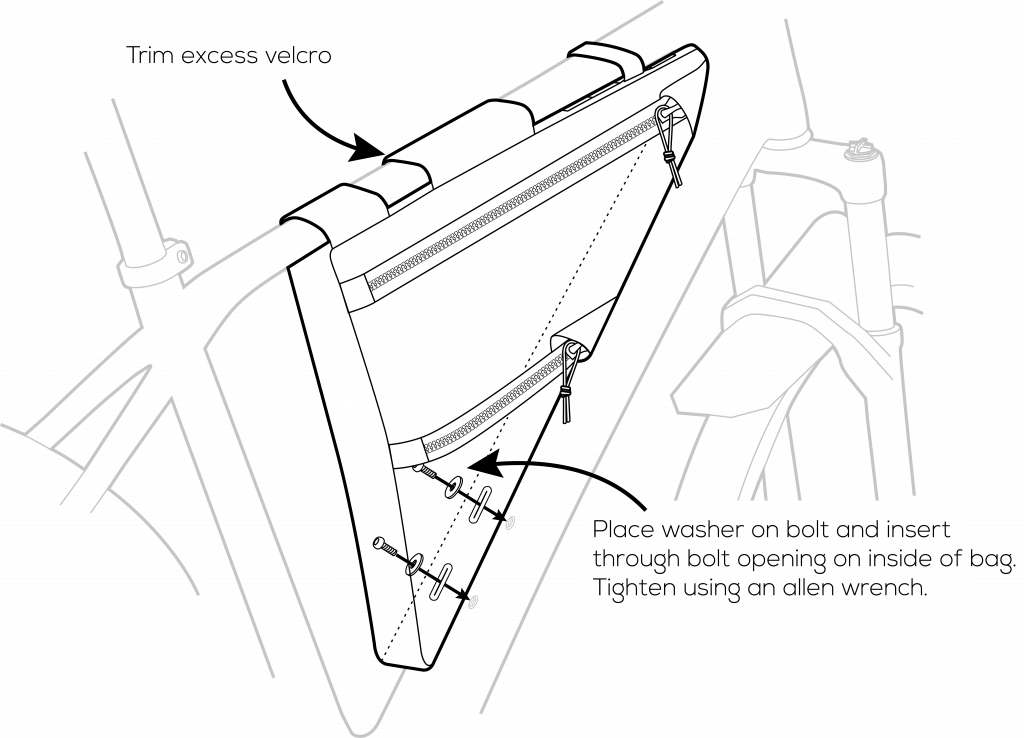 Custom Made Using PhotoFit®
Get a perfect fit to your frame with our PhotoFit process.
What Packs Best in Your Framebag?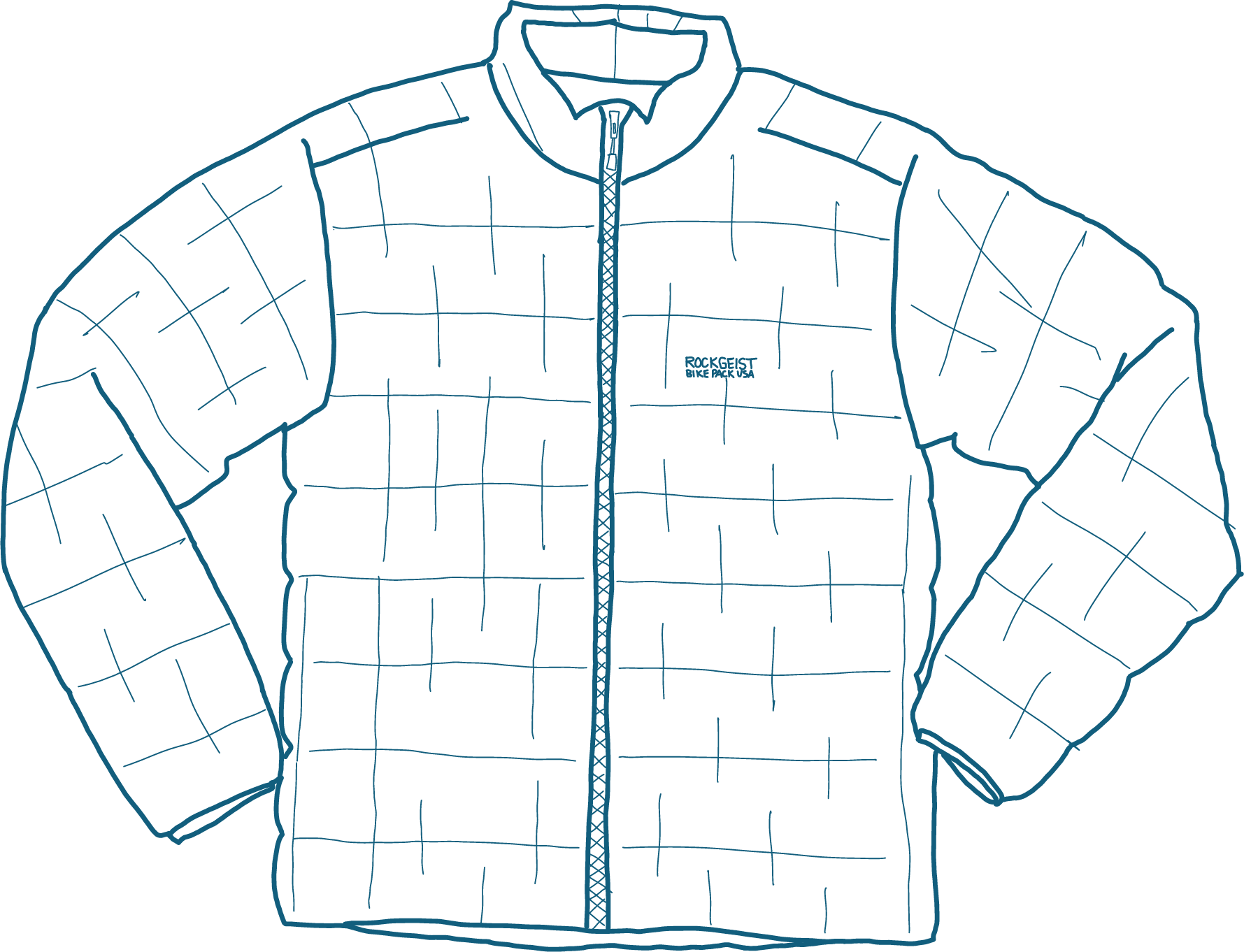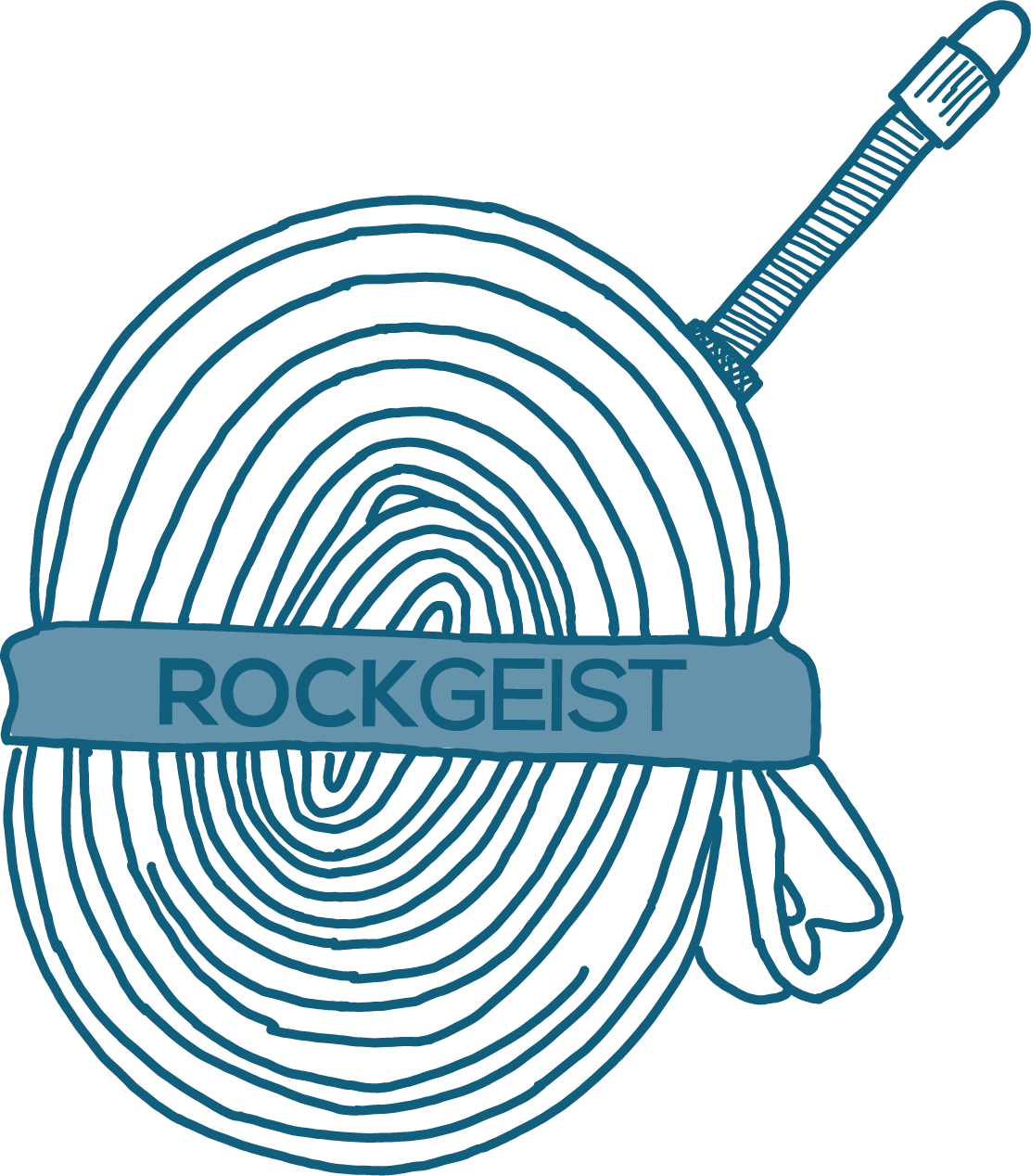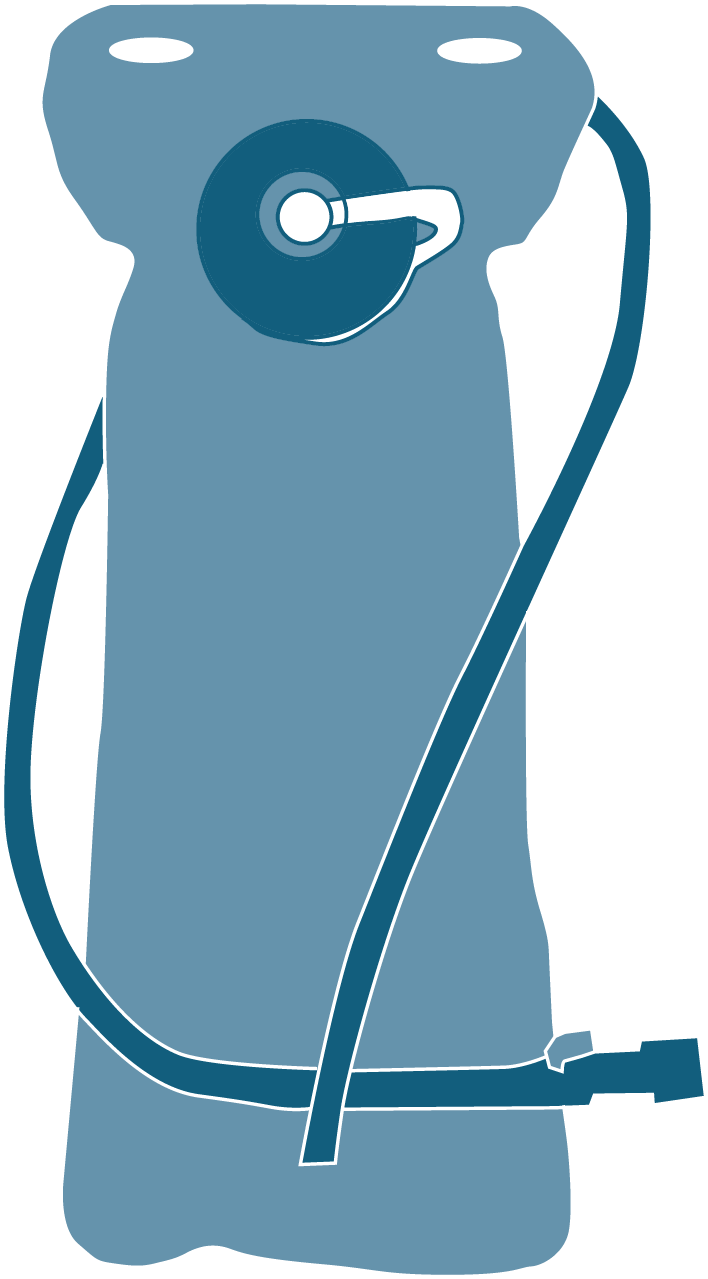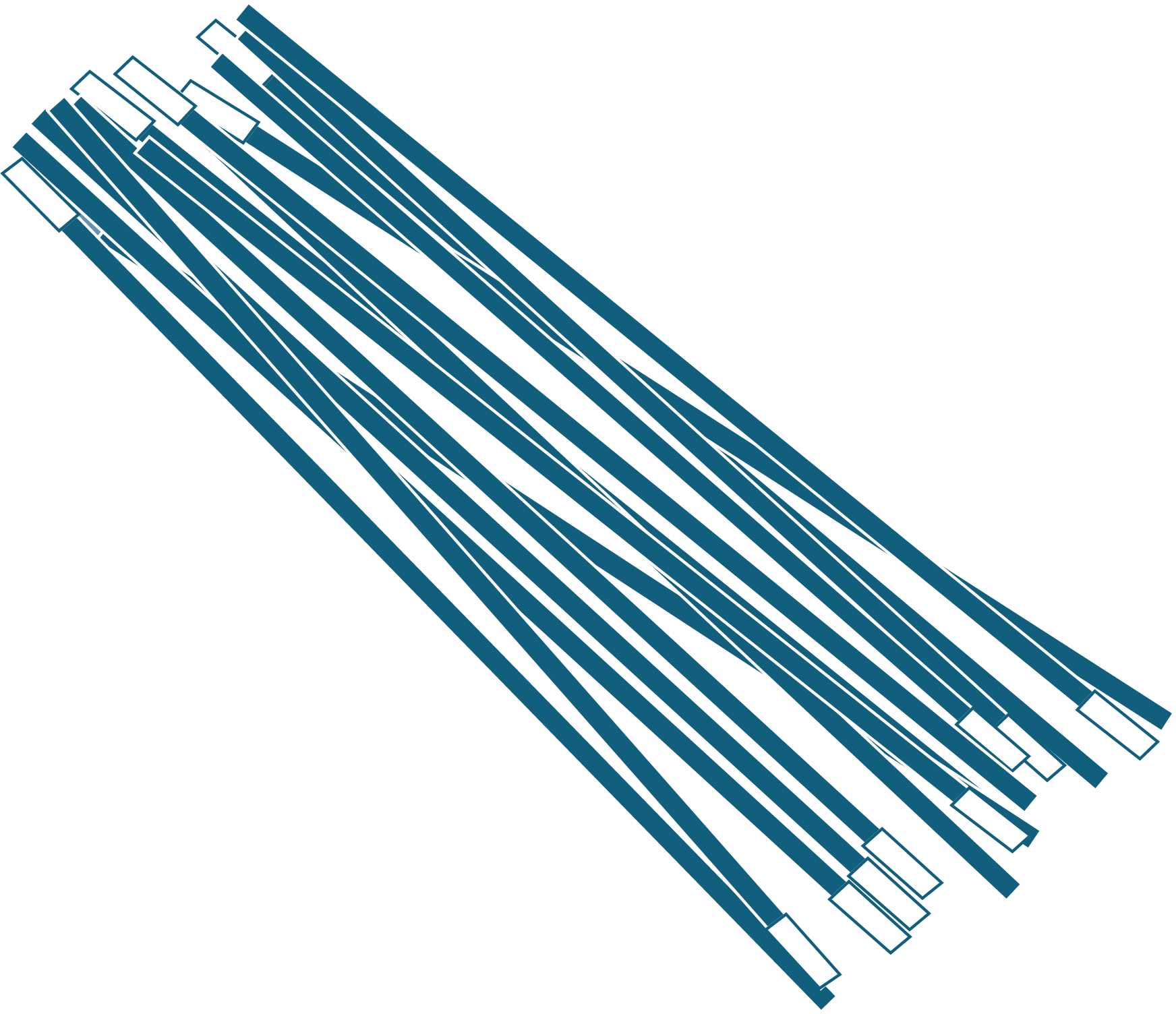 Puffy coat, rain coat, and extra layers.
Your flat kit; extra tube, tire sealant, tire lever, pump, etc.
Water bladders fill framebag nooks better then hard plastic bottles.
Large food items; foot long sandwiches, burritos, pizza, etc.
Smaller snacks can fill up the extra space.
Tent poles can packed inside (wraped in hang loops).
Example Half Framebags
We give you complete control on the features, fabrics, and style of your framebags. See below for examples of customer orders.
I tested this bag on a grueling seven-day bikepacking trip in the desert and mountains of New Mexico in rain, snow, hail, and mud, and it far exceeded my expectations. Having a custom fit makes all the difference, this bag is far superior to off-the-rack options.
Frequently Asked Framebag Questions
Can I add custom features?
Absolutely. Take advantage of made to order gear and make it personal.
Can you describe the features in the drop down menu?
Can I do a seat tube or top tube bolt-on?
What does "Monthly Capacity Reached" mean?
The level of customization, quality, and attention to detail requires a generous time commitment for each custom framebag we make. This creates a great product, however, it is challenging to scale our services to meet the demand. To serve our customers better, there is a limit on how many framebag orders we accept each month.
If you see the "Monthly Capacity Reached" notice on the custom framebag product, please check back on the 1st day of the next month to place your order. Capacity limits will be reset by the 1st of each month. Thank you for your patience and understanding.
When will my framebag ship?
Please see the lead time posted on the gear pages to get an idea of when your gear will ship. While lead times are an estimate, serious effort goes into keeping those estimated times accurate.
Do you have a photofit template of my bike already?
Please send your photofit picture even if you're certain Rockgeist has that template already. Reason being is that two "identical" bikes from the same brand, model, size, and year can have different cable routing, one with a front derailleur, mud guard, a different brand of rear shock, etc.
Framebags are built to be optimized to your exact bike, down to the smallest of details which are all captured in your photofit picture.
Can you make a framebag from a spec (CAD) drawing?
While there are many ways to make a framebag, making them from a spec drawings is not our method. We've ran into too many issues where the spec drawing did not match the physical bike (for example moved bolt holes). Rockgeist only uses our PhotoFit method. This creates the most efficient process on our end and helps keep lead times as low as possible.
Which international countries do you ship to? How much is tax and duty?
Rockgeist ships world-wide, simply select your country during checkout. If your country is not listed, please email [email protected] to receive a quote.
To see tax and duty, please add your gear to your cart and select the "UPS Worldwide Economy" shipping option. You will then see the exact price of Tax and Duty at the checkout page. This is paid in full at checkout which allows your package to skip customs and be delivered right to your door.