Cache Top Tube Bag | Bolt On, Stock
Bolt On version of our Cache Top Tube Bag. Stable, accessible storage with electronic cord access. Comes with 1/4″ Dog Bone Spacer but please note the Spacelink is sold separately.
Features that make this bag great
Electronic cord access (e.g., headphones, dynamo cords)
1-handed opening/closing when riding
Dog-bone foam spacer at stem
Glow-in-the-dark zipper pull
Connect to our Spacelink for enhanced stability and clean aesthetics
All Ultra PE fabrics (aka dyneema, EPL, Cuben Fiber) are +$10 to the base price. These fabrics have especially high strength to weight ratio. 
The Bolt On Cache requires you bike to have bolt on top of the top tube by the stem. This bolted design eliminates velcro around your stem for a clean and secure one-handed zipper access to open and close while riding. Bolt-on option includes mounting hardware and internal velcro cover to prevent damage from contents rubbing on bolts. Please add your bolt-on spacing (see photo diagram) in comment field at checkout.
All sizes taper to help avoid knee rub while still providing a large amount storage with cord access for your electronics. Stiff foam is located on both sides and bottom. All sizes are compatible with the Spacelink (sold separately).
Build Materials
Ballistic Cordura® against the stem
1000d Cordura® on spine
YKK® water resistant zipper
X-Pac™/ Cordura® on the outside face
Closed-cell foam inserts
M5 bolt holes to connect to you top tube (please email your bolt-to-stem distance, (see photo diagram).
Additional information
Weight
4 lbs
Weight

Small 3.7oz (105g), Large 4.5oz (128g), XL 5.6oz (159g)
*Weight is based on bag made with VX21 without bolt-on and reflective webbing. Weight varies based on fabric choices, velcro length, and add-ons.

Volume

Small 0.8L, Large 1.1L, XL 1.4L

Dimensions

Small 2.75" wide at stem, 4" tall at stem, 7.75" length (ideal for regular sized iPhone)
Large 3.25" wide at stem, 3.75" tall at stem, 9.0" length (ideal for regular sized iPhone)
XL 2.75" wide at stem, 4.75" tall at stem, 9.25" length (ideal for plus-sized iPhone)
What Packs Best in your Cache bag?

Our Cache fits your every-day carry items such as wallet, keys, phone, and small snacks.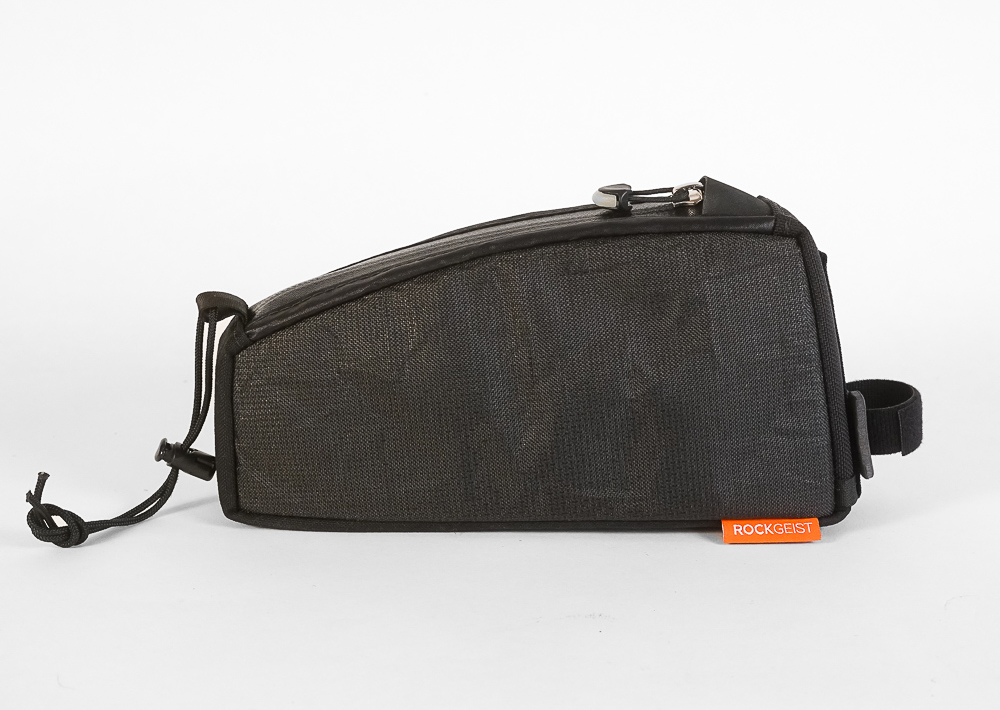 It's actually the only bag I keep on my bike at all times. I use it for all the things I want easy-access to without having to stop, but there's room still for other essentials that I just want to keep on me. I can't recommend it enough! 
Molly G.
Cache Bag is handmade in Asheville, North Carolina
Pair your Cache with a custom framebag