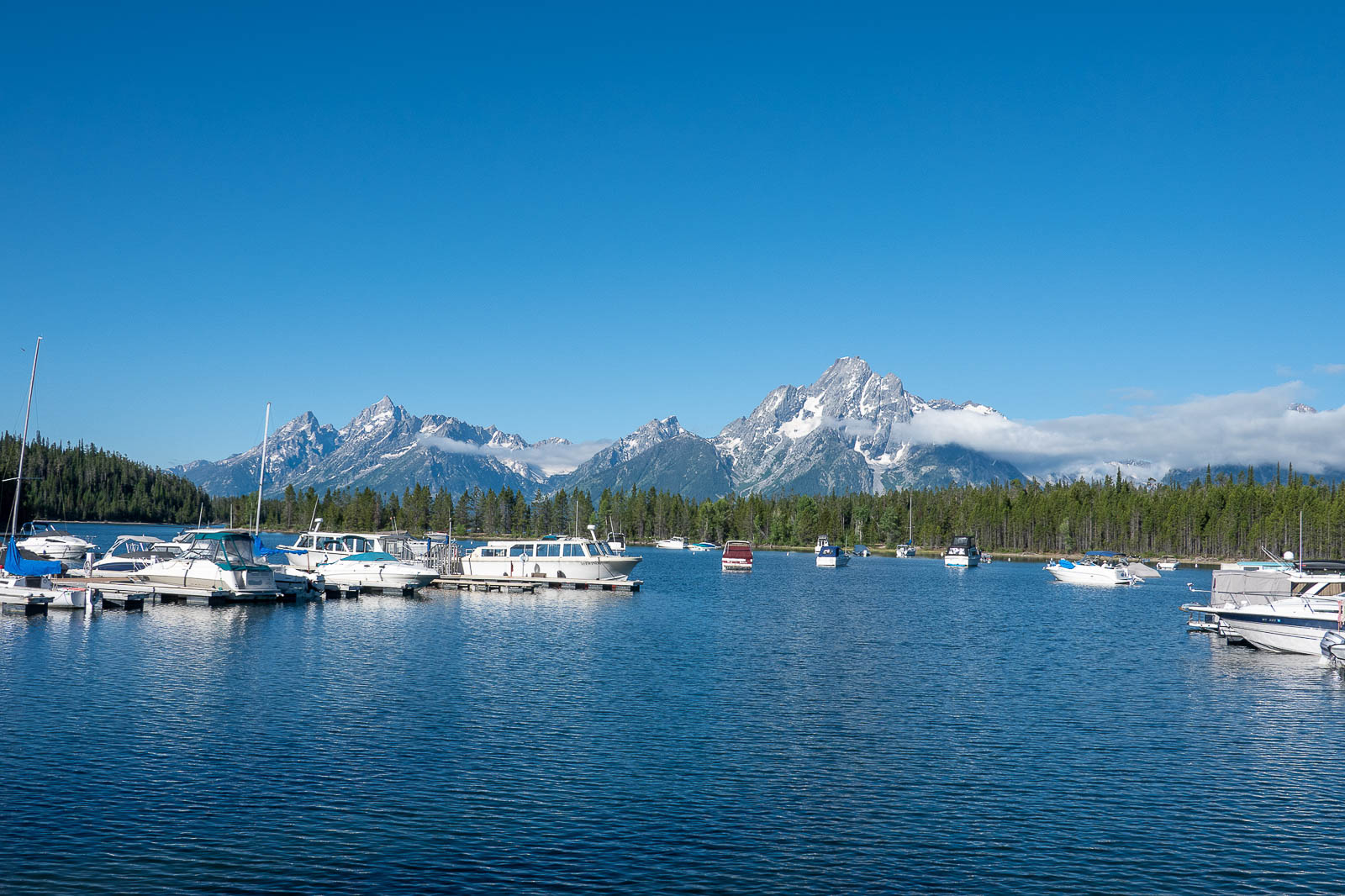 Wyoming
Upon entering Wyoming, you are immediately thrust into downright beauty. Yellowstone is to the north and the Tetons are to the south, and thanks to a kind solo hiker, we were able to camp in his site, right beneath the view above. Wyoming was as diverse with its people as it was with its landscapes. From mountains, to wide open roads, to cowgirls and park rangers, Wyoming has it all. 
Sadie
Togwotee Pass, WY
Coming out of Grand Teton National Park, pavement became gravel, and gravel became double track that lead pretty deep into the Bridger-Teton National Forest. Somewhere along that double track – I began to notice footprints, first small ones, and then larger ones…together….good ole bear prints. Momma and baby. We followed the prints for about 2 miles before we actually caught site of her and her babies about a quarter mile ahead. Eventually, we were able to pass as she moved into the forest off of the road, but we met Sadie coming off the road and she informed us about the grizzly.
"That Mama grizzly you just saw, we named her Felicia. She's been coming close to the area for a while because people keep feeding her. I just don't know why though, feeding a grizzly is really silly."
Bob
Yellowstone National Park, WY
I was admiring the view in the Teton's and Bob pulled up behind me with his camper and camera. I asked him where he had been, and he mentioned that he has worked in the national parks his entire life. He spends his days canoeing and taking photographs of wildlife he sees around the parks.
"I came to Yellowstone one summer to work and it ruined every other ambition I had in life. I've been a park ranger for 41 years."
Theresa
Pinedale, WY
Meeting Theresa was a wonderful little end to a tough day. With temperatures rising and the sun beating down for the latter portion of the day – I was ready to get to Pinedale. But – then I saw Theresa doing some fence work along the side of the gravel road I was riding on. In no rush, I pulled aside and asked her what she was up to. She talked a little about her home – which was about 15 minutes away, and how she was doing some work here for her sister. She loves it out there.
"I've lived in Daniel, WY which is 10 miles away for almost 51 years. My husband and I own a meat company called Wild Reds Meats. This is my sister's ranch, I'm just out here fixing her fence before they deliver some cows tomorrow."
Tyler
Boulder, WY
Tyler was one of the folks who I would have loved to have a much longer conversation with. I encountered Tyler at a gas station in Boulder, WY right outside of Pinedale, and I thought he looked like an interesting man. He portrayed the full cowboy-western look. Flannel, cowboy boots, hat, and really large belt buckle. He has lived out that look through and through. 
"I've lived in the same house for 61 years. I was born there and it was built in 1903 by my grandparents. I help with ranching but mainly I just build fence and shoe horses. Yep, that's about it. Raise beef, raise hay, and hope it rains. Oh, and I like to say I run the hospital here. See, I've got this sign I carry around."
Carmela & Wild Bill
Atlantic City, WY
Atlantic City, WY. A small abode found only if you're willing to drive down some gravel roads and make a few wrong turns on the way. I had been looking forward to this place because other riders mentioned that I had to stay at Wild Bill's Bed & Breakfast. Wild Bill greeted us immediately and showed us to our cabins, while his wife Carmela pointed out the hot tub, the snack store, and offered us ice cream. These two have been hosting hikers and bikers for 8 years and they've been married for 10.
Carmela: "Bill and I actually met online. We met face to face for the first time in November 3rd and married 2 months later on January 8th. That was 10 years ago. He's a wonderful person. He built those cabins up there because hikers and bikers would always be knocking on our door for a place to stay, so we figured it would be a nice thing to do for you guys."

Bill: "I've lived here for 22 years, and before this I lived in Northeast Nebraska. I love it here. I love the weather and the hunting. In the winters, Carmela and I go ice fishing on the lakes and the summers are spent 4 wheeling. It's a good place to live."
Laurel
Atlantic City, WY
Wild Bill made it clear we had to make it up to the saloon before 6:30 because they would stop serving dinner after that. So we mosied our way up there and were greeted with a smile by Laurel and some locals sitting at the bar discussing the road conditions right out of town. 
"I was a nurse for 20+ years but we came through this town on a harley in 2008, loved it, and immediately broke the new to family that we were moving from Sonora to Atlantic City. I sold out to a business partner, and we appeared here. Everyone was freaked out because we were from California but they like us now. We want to retire , but we won't until someone comes around who likes the trail as much as we do."
Frank
Great Basin, WY
In the middle of absolutely nowhere, Wyoming, a trail angel appeared in the form of Frank. We hadn't seen a single soul besides some sheep and wild horses for 70+ miles in the Great Basin, and there in the middle of an oil field, was Frank and his crew. He supplied us cold water and a snippet of his story.
"I came to the US from Mexico in 1977 when I was 15, and I haven't stopped working since. I've lived all over, Colorado, Arizona, but home for us now is in New Mexico. I've worked on pipelines my entire life and I really just love to work. Before I worked all the time, I also rode my bike, but I don't have time for that anymore. My advice – just love your work."
Marty
Dubois, WY
Offering arguably the most sound life wisdom of the trip, Marty stood outside the lodge waving goodbye to us.
"I've really only got piece of advice for you. Sell your bike and buy a horse."